EcoStar®
EcoStar variable speed pump is the most efficient pump at any speed that can save you up 90% on energy costs over a single-speed pump. EcoStar matches pump flow to a pool's needs, versus running at full power 100% of the time and is suitable for both new construction and the aftermarket.
Most efficient pump at any speed. Its super-efficient permanent magnet, totally enclosed fan cooled (TEFC) motor and industry leading hydraulic design can save you up to 90% on your energy costs
Service mode allows your service company to clean pools quicker
Integrated controller is programmable with a self-contained 24-hour clock and up to 8 custom speed and timer functions that allow EcoStar to manage flow throughout the day
May be eligible for rebate from your local power utility
User interface can be repositioned or even removed and mounted on the wall for easier access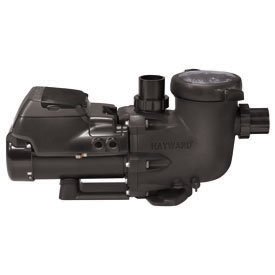 Super Pump®
The Hayward Super Pump series of large-capacity, technologically advanced pumps blends cost-efficient design with durable construction, setting the standard for excellence and value.
Designed for in ground pools and spas of all types and sizes, the Super Pump features a large see-through strainer, super-size debris basket, and exclusive service-ease design for extra convenience.
Heavy-duty high performance motor with airflow ventilation for quieter, cooler operation.
Exclusive swing-away handle makes strainer cover removal easy – no tools, no loose parts, no clamps.
See-through strainer cover lets you see when basket needs cleaning.
110-cubic inch basket