Hayward Universal H-Series
The Universal H-Series is an energy efficient, high performance, installation adaptable commitment to the pool service professional.
Standard cupro nickel heat exchanger
Excellent salt water and chemical corrosion resistance
Exclusive 'Totally Managed' cupro nickel heat exchanger water flow
Same water velocity through all tubes for faster heating
Patented header by-pass design
Up to 18 percent savings by reducing pump run-time
2in x 2 1/2in CPVC union plumbing connections
Common union for installation or service, adapts to larger plumbing recommended for greater efficiencies
Low NOx emissions – meets clean air quality standards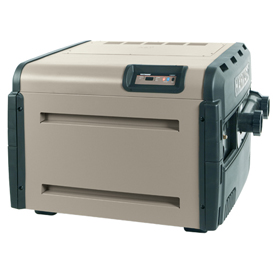 H-Series Millivolt
Features on all millivolt heaters include rust-resistant water path withpolymer header assembly and a rapid-heat combustion chamber. They are easy to install and maintain, thanks to its low profile, lightweight and CPVC plumbing capabilities
H-Series heaters are all equipped with a Cupro Nickel Heat Exchanger for efficient heating and superior durability. Cupro Nickel provides improved durability and longevity against the damaging effects of erosion that can occur under high-flow conditions, corrosion from occasional pool chemical imbalances, and is ideal for salt-chlorinated pools.
For extra protection, the cupro nickel material has been coupled with an improved flow rate by-pass control. Together, these added technological improvements ensure that your Hayward heater outperforms and outlasts expectations